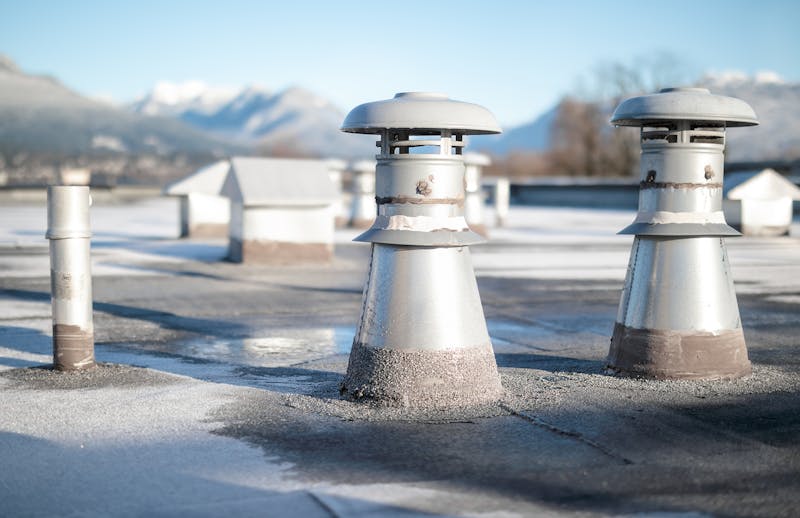 When a water stain develops on the ceiling, it can make a homeowner's heart sink. Some may decide to cover up such a stain temporarily. While this may improve the aesthetic of the house, it does nothing to address the underlying issue.
One of the most pervasive roof issues that roofing companies have to address are leaks around the vent pipes. Roof vents, otherwise referred to as plumbing jacks or roof jacks, are the pipes that jut out from the ceiling, giving vapors and gasses in the kitchen and bathroom a way to escape.
While roof vents are vital for establishing a balance between the influx and efflux of air, their water-tight seals are prone to erosion and damage over time, caused by factors such as excessive heat, frigid temperatures, or powerful winds. This will ultimately lead to leaks. When left untreated, this water leakage can lead to the development of mold and serious structural damage in the home.
Leakage around the vent pipes is a relatively common issue
Small water stains on the ceiling or water leakage in other areas of the home are both signs of a leaking vent pipe on the roof. This leaking can usually be perceived early on in the attic space. If the attic isn't checked regularly, homeowners are likely to miss leakage and aren't made aware until water starts leaking into the home.
There are a number of materials that are used to make roof vents. Some are all plastic, some are a combination of plastic and metal, and others are what's known as 'two-piece' metal.
They are also usually equipped with a rubber 'boot' which prevents water from getting into the vent and leaking into the house. While these materials have proven an effective means of protecting a house from leakage, they are susceptible to damage from the sun's rays and intense heat, which is absorbed by rooftops in the summer.
What is the cause of leakage around a vent pipe?
There are four issues that are most commonly associated with vent pipe leakage:
A ripped or eroded rubber boot. If the boot's integrity has been compromised, water will start to leak into the pipe.If the metal 'collar' surrounding the vent pipe is cracked or rusty, it may cause the accumulation of rainwater, leading to leakage.If the seams of the metal bases are broken, water can start to seep in.If nails have come loose, water can enter through the holes.
How to repair roof leakage around a vent pipe
While many homeowners may resort to caulking as a first response to this issue, it is not a permanent solution. In fact, taking this course of action can lead to further issues down the line, as it masks the underlying damage.
When dealing with a leak, it is best to call in a roofing specialist to perform a thorough assessment of the roof. Overall, damaged roof vents should be replaced right away. It is also vital that they be installed with washers and caulking to minimize the likelihood of issues developing later on. At LOA Construction, our roofing specialists offer roof repair in Austin, Houston, San Antonio and surrounding areas.
What is the takeaway?
Roof leakage around vent pipes is an incredibly common issue. While leaks are a serious issue, they can be easily prevented by ensuring that the roof vent and its materials are in good condition. Periodically checking the attic is also a good idea. It is always recommended to enlist the aid of a roofing professional before making any decisions on roof work.