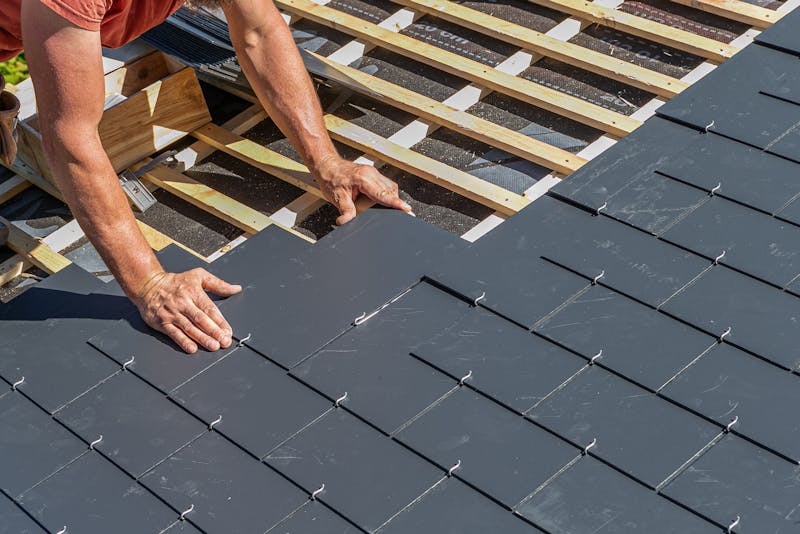 It's no secret that choosing materials for a roof replacement can be a stressful task. Factors such as aesthetic goals and the customer's budget all come into play when making these decisions. Out of the various materials available, one of the most popular is slate. Before making a decision on whether slate is right for you, it is vital to have all of the information regarding this roofing material.
What is a slate roof?
A slate roof is defined as a roofing system comprising mostly natural slate tiles and other slate roofing materials.
It is considered to be one of the most aesthetically appealing and durable roofing systems available on the market. In fact, its aesthetic has become so popular that shingle manufacturers design asphalt shingles to look similar to a slate roof. Slate is a rock that is mined primarily in Italy and made into square tiles. These tiles are then installed one at a time onto the roofing system.
Here are some important facts to know about slate to help you make a decision on your roof.
1. Slate roof is very durable, but also heavy – the house must be able to withstand the weight of a slate roof
Slate roofs are notoriously heavy, meaning that the home needs to be equipped to handle its massive weight. Installing a slate roof onto an unequipped house could lead to roof collapses or falling walls. Clients who are determined to have a slate roof installed will need to retrofit the house before proceeding with the installation.
Retrofitting is a lengthy process that must be carried out prior to the roof installation and must be approved by a structural engineer. Houses that need retrofitting done will rack up a lot of expenses in their roof installation process. It is crucial to consult with an experienced roofing contractor before making any final decisions on the type of roof you want to have installed.
2. Slate roofs are one of the highest-rated roof options, and are more expensive than other types of roofing
Slate roofs are known for being one of the highest-rated roofing options as they hold up long-term. As a higher-quality roofing material, it also comes with a higher price tag.
Homeowners typically pay about 4 times more for a slate roofing system than they would for a normal asphalt roof. Those interested in cheap options may not be happy with the costs of a slate roof. However, for those who can afford it, a slate roofing system beautifully complements any home. More importantly, it's the last roofing system they will ever have to install, making things cheaper for them in the long run.
3. Not every contractor is experienced in installing slate roofs
It is vital that property owners refer to a reputable contractor with experience in installing slate roofing systems to carry out their installation. A properly installed slate roof will be able to stand the test of time. This is vital for the client's investment, as a faulty job could result in a less-than-ideal situation in which the roof's integrity is compromised. Slate roofing systems require a higher level of expertise as the installation process is more complicated and requires more patience.
As mentioned before, slate tiles are unique in that they are laid down individually. As such, they need to be handled with great care as they are incredibly delicate. Furthermore, they need to be installed in a very precise manner in order to safeguard against leaks, which could shorten the lifespan of the roof altogether.
Whether a full roof replacement or a simple repair is needed, it is paramount that the contractor chosen be skilled and experienced in working with slate roofing systems.
4. Slate roofs are not under warranty
Homeowners receiving standard roofing will receive two warranties. One of them covers the contractor's work and the other one covers the materials. As a natural material, slate does not come with a manufacturer warranty. Therefore clients will only have the contractor's warranty to protect them going forward.
For this reason, it is highly recommended that clients seek out a contractor that is both highly skilled in performing slate roof installations and provides warranties that will safeguard their work for years to come. It is not worth it to take a risk on a slate roof that comes with something as little as a 5-year warranty. For the most extensive protection available, clients should seek out roofing companies that provide lifetime warranties, as this is the safest plan for their investment.
What is the takeaway?
Slate roofing systems are high quality and long-lasting. While they may come with a higher price tag, they help homeowners save money in the long run. It is important that homeowners do proper research and find the best roofing company available to carry out their slate roof installation, as the process is more involved than with other roofing systems. LOA Construction is a top roofing company in Austin with over 30 years of combined experience and 5 stars with over 400 reviews on Google.