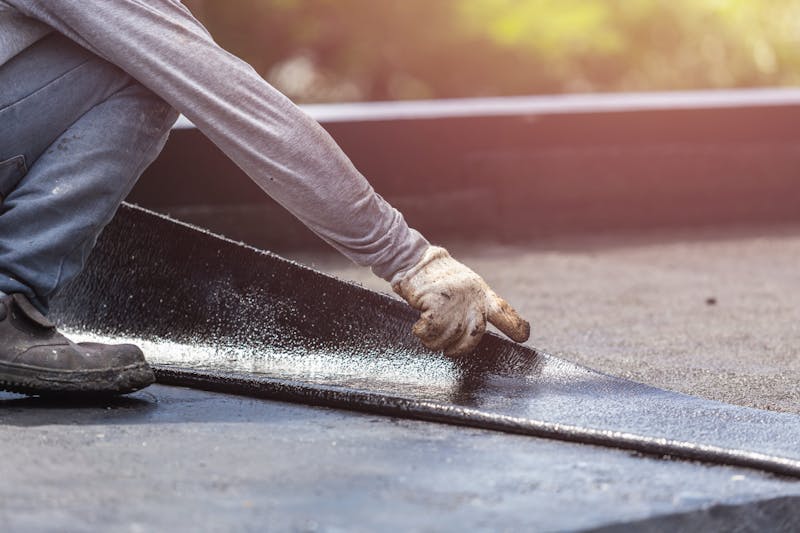 If you are new to living in a home that has a flat roof instead of a pitched, or angled roof, there is a good chance that you are also new to the specialized care and maintenance that comes with a flat roof. If a flat roof is neglected, there can be damage and replacement needed in just a few short years. With proper maintenance and knowing how to spot issues early, however, a flat roof can last for more than 30 or 40 years.
How to Know if You Need a Flat Roof Repair
The key to roof longevity and structural integrity is to understand what the risks are, and being able to identify problems that are still in the very early stages. By knowing what to look for and fixing any minor issues that come up, the average homeowner or renter can have a healthy roof for a generation. There are a number of signs you can keep an eye out for, that will save not only your roof but your wallet.
Pooling
This may be one of the easiest for new flat roof residents to spot since it is the most obvious one. An ongoing effort will need to be made to check the roof for puddles or pooling water. This will frequently be done within a short time after heavy rain has concluded. Be on the lookout for any water that has collected on the roof. Pooling can cause water to soak into the roofing layers, causing even more damage over time or with freeze and thaw cycles.
Obvious Physical Damage
Another easy way for flat roof initiates to scan for damage is to look for cracks, tears, or splits anywhere on the roof or its perimeter. These are all direct breaches of the protection that your roof provides, plain and simple. They allow water to begin penetrating hidden layers of your roof, soaking into the wood and causing structural damage like sagging and making it incredibly unsafe.
Leaks
No matter how effective they are, flat roofs will always find an adversary in lingering moisture, and so such issues need to be addressed quickly. With flat roofs, you don't have the benefit of gravity helping to pull the water away from the roofing materials, so it sits. This can lead to problems resulting from seepages like fungus or mold contamination. If you didn't spot the leak in time, in many cases your only indication will be the damage as you view it from inside the home.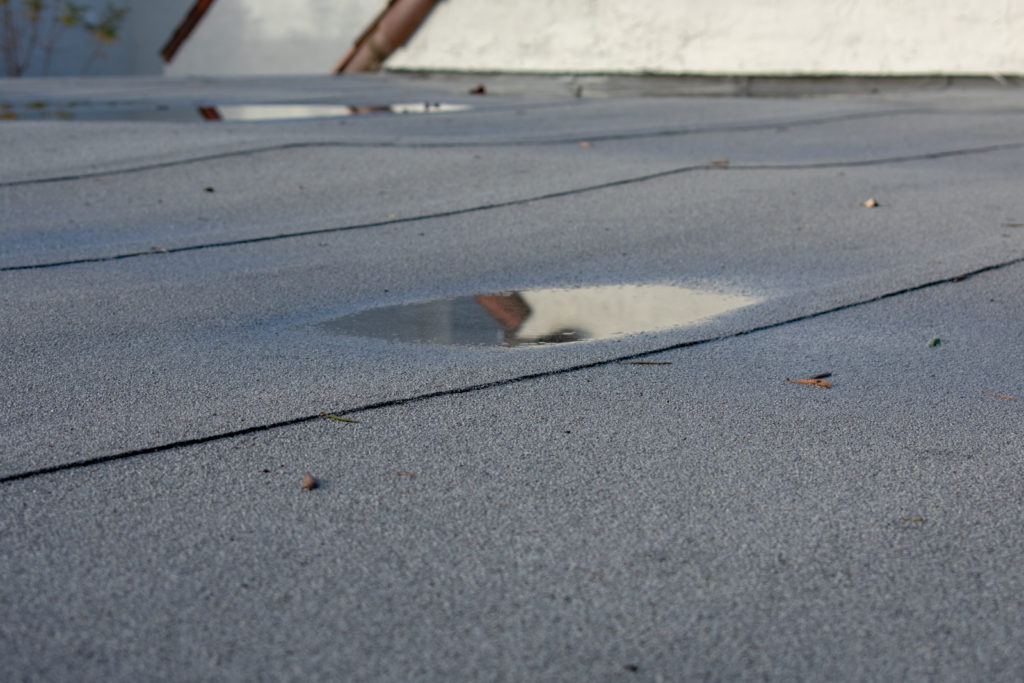 Roofing That Hides Damage
Sometimes, the damage is too well camouflaged for even experienced homeowners to find, and some roofing materials actually hinder that process. Looking at a painted roof and seeing a crack is easy enough, but that task can get much harder with roofing materials like tar and gravel. If you have a leak and material like this on your roof, it's probably time to upgrade to something easier to monitor.
Adhesion Failure
This is one of the areas that trip up homeowners or business owners that try to go the DIY route. Adhesion failure is often caused by moisture between roofing layers, which eventually becomes a space for air and water to collect. Eventually, this will bubble out and burst, leaving a large hole or split in the roofing materials.
Flashing
All roofs, flat or not, expand and contract with temperature changes. This will eventually contribute to the flashing starting to pull away from the areas where it is weakly attached. This will allow moisture and leakage to begin causing visible damage to the ceilings and walls. One of the primary causes of the leaks that necessitate roof replacement is leaking from damaged flashing.
Growth
This one is obvious and it can have several different levels of severity. Some flat roofs that get fairly regular periodic rain can begin to support a whole ecosystem on your roof. When poorly maintained, flat roofs will gather dead leaves and other detritus and debris, moisture, and even seeds for vegetation carried on the wind.
At its most minimal, this means that you may head up to the roof and see a bit of algae in a small pool, or a bit of moss on some surfaces. At its worst, this could mean a carpet of debris and organic matter holding moisture, and plants or small saplings growing in the compost, sending roots into your roofing materials.
Why You Need To Skip DIY Flat Roof Repairs
In most cases, periodically checking the roof for maintenance needs or damage after a storm is relatively straightforward. However, if you have a large roof, complicated materials, or a general lack of experience it may be in your best interest to have a local professional come to make an inspection. It will give you a baseline of what needs to be addressed.
Doing the repairs in a do-it-yourself way, however, is often more trouble and risk than it's worth. Since professional roofers are licensed and insured, you don't have to worry about any potential issues down the road. If you attempt your roof repair and the next storm gives you a living room swamp, your homeowners' insurance may not even cover it. Additionally, investing in the tools, materials, and expertise to do it properly is a considerable expense.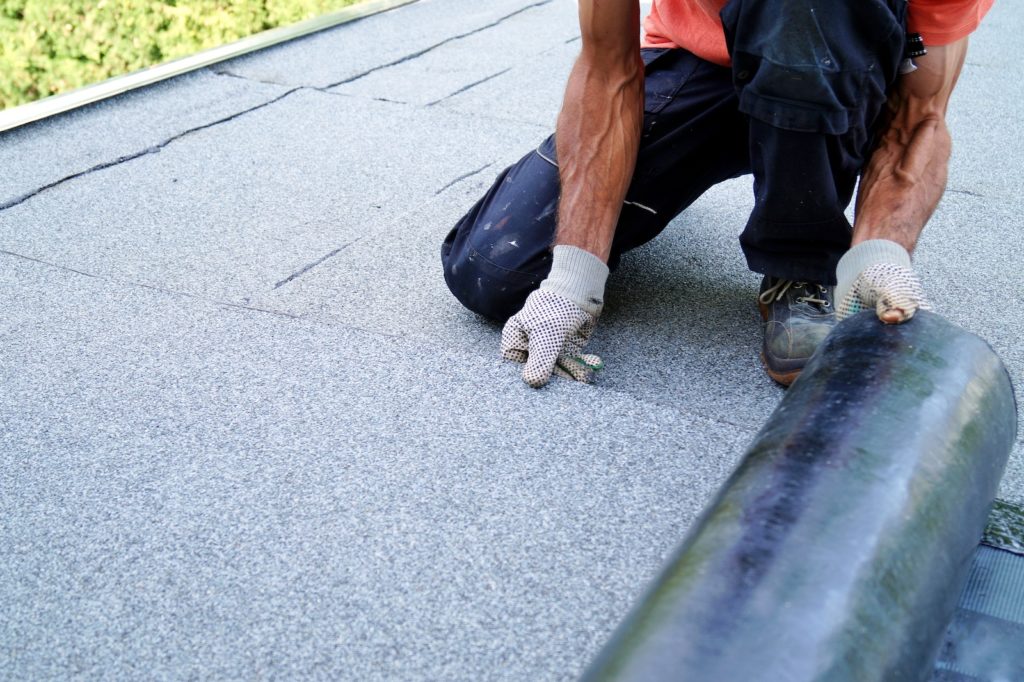 How to Find the Best Flat Roof Repair Companies
If you are trying to find the best flat roof repair companies, start out by staying local. Find a professional near you that has not only the experience to maintain and repair your flat roof, but also the record of service that points to a track record of satisfied customers.
If you or someone you know in the Austin, San Antonio, or Houston area needs repairs to their flat roof, reach out to local roofing experts that has a quick response rate and are professionals with the inspection and repair process. Remember, trying to fix the roof yourself can do more harm than good, costing you more of your precious time and money in the end, so make sure you stick with professionals that can service all your flat roof repair needs and more.