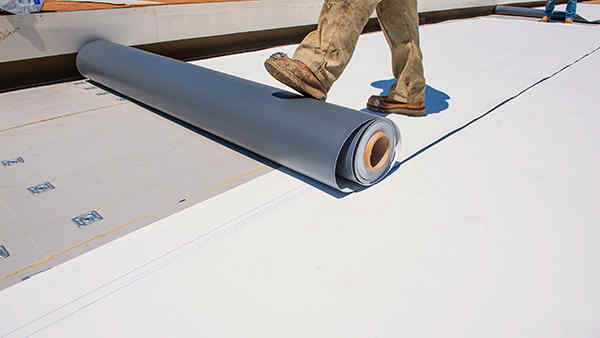 When it comes to finding the right roof, many people wonder what type of material is best and whether rubber roofs are a good option. TPO is a type of rubber roof that is designed for flat roofs. TPO, short for thermoplastic polyolefin (TPO), is a single-ply, unique rubber roofing system that is resistant to ultraviolet, chemical exposure, and ozone. TPO is heat-reflective and energy efficient, and it's also low cost. So the answer is yes–TPO is a good roof. Let's take a further look at this unique roofing material to understand its pros and cons.
PRO: TPO roofs reduce costs
TPO is one of the least expensive roofing materials available, making it a desirable option for those looking to reduce costs. The surface color of TPO tends to be white, which means TPO roofing systems have reflective properties and reduce energy costs by helping to stop heat from entering and building up indoors. The result is better energy conservation due to lower cooling costs.
Durable, heat-reflective TPO roofs are a particularly good option for those in hot climates, such as Texas, because homeowners can also benefit from a significant decrease in maintenance costs.
PRO: TPO roofs are long-lasting
The life expectancy for a TPO roof is 22 to 30 years. Compared to the standard 15-year lifespan for roofing materials, this is an outstanding benefit. TPO is resistant to corrosion and installs easily and effectively.
Additionally, a TPO roof is less prone to mildew and algae growth and resists dirt and punctures. TPO doesn't require pressure washing and needs cleaning less often than other roofs.
CON: TPO materials tend to crack
The top layer of a TPO roof, the lamination, can create weak points that cause the material to crack over the years. Most commonly, this occurs in TPO roofs that cost less. It is common for less expensive TPO roofs to develop cracks in the surface. This can cause the roof to look less attractive and lead to other deterioration.
CON: Flat roofs are more susceptible to water build-up
Flat roofs are more prone to water build-up on the roof. While well-built flat roofs are designed with a slight angle to help water find its way to the gutters, a gutter that is not free and clear can result in water build-up on the roof. If water can't get through the downspout, the roof becomes susceptible to leaking.
CON: TPO may fail to withstand excessive exposure to heat
While TPO is heat-reflective, in climates where the weather is particularly hot for long periods of time, it may be weakened by excessive exposure to the heat. This means the lifespan of the roof may be shortened.
Your TPO Roof With LOA Construction
Our team at LOA Construction provides unparalleled expertise when it comes to roofs. At LOA Construction, we are known for integrity and are a top roofing company in Austin, Houston and San Antonio areas. We provide all the information you need to make a confident, informed decision, but we don't push you to make one.
Our trustworthy, competent team shows up on time, making it a point to provide professionalism, expertise, and most importantly, get the job done right. Choosing the right type of roofing material is a significant, important investment. LOA Construction works with you within your budget to provide a durable, attractive roof.
With TPO roofing, it's best to discuss your goals for your home or business and your price point with experienced experts. We are here to provide the best and longest-lasting roof for your home and offer you peace of mind. Please call today for a consultation with your roofing contractors at LOA Construction to find out more about whether TPO is your best option. More information here about the benefits of a TPO roof.