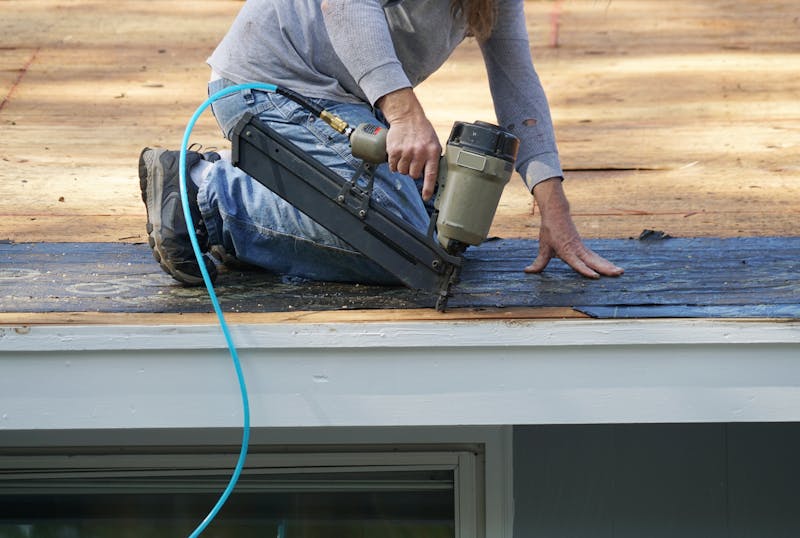 One of the first things the average homeowner thinks when they learn of the average cost of a new roof is "I can probably do that, it seems pretty straightforward." While this may be one of the most common reactions, going with that initial DIY urge could prove to be one of the most costly mistakes you can make with your home.
People may be hesitant to accept an estimate given to them by a roofing company for any number of reasons like they feel they can't trust them enough, or that they wouldn't negotiate the price of the job. Sometimes the homeowner may just feel that it's worth it to try simply to avoid the new roof cost. In nearly every case this turns out to cause more damage than it fixes, making a larger expense and longer project for the homeowner in the end.
Even in the case of skilled professional craftsmen who feel that they should be the ones to install the new roof, or have even done roofing work before, it can be disastrous to have anyone except licensed and insured roofing professionals work on your new roof. Even when the new roof cost is more than you were projecting, you should still feel comfortable and confident in your decision to avoid the DIY route.
Why Doing a DIY Roofing Project Will Cost You More In The Long-Run & Other Pitfalls Of Installing a New Roof On Your Own
If you recently obtained an estimate on the new roof cost for your home, and feel like you might be seriously considering a DIY roofing project, make sure you consider all of the benefits and drawbacks to it. Once you have weighed the pros and cons, decide on whether you are still committed to a DIY roofing project.
DIY Can Have Some Hidden Costs
So many people initially start down the DIY path because the new roof cost scares them a little, and they think that they can likely get the materials and complete the work themselves, cheaper. With many home repairs and tasks, this is frequently a frugal option that can be completed with a little elbow grease. However, trying to tackle a DIY roofing project can result in a lot of unexpected costs adding up.
While you can generally get the materials that your project would need relatively cheaply, there are often a lot of things you don't take into account. Roofers use a lot of specialized tools and equipment, many of which are neither cheap nor applicable to other types of projects. This can lead you to end up investing a sizable sum into equipment that you may only use once a decade, or less.
Your Insurer May Not Approve Of The Job
Depending on the circumstances that led to the home needing a new roof, if you will be trying to cover the expense with an insurance claim, you may be in for a shock when you may be expecting a payout. If your roof was damaged in a particularly bad storm, for example, submitting the claim for reimbursement may lead to a claim denial if the job was not completed by a licensed and insured roofer.
In some cases, the insurer may not even accept outside bids for reimbursement and may work directly with their roofers of choice. This means that if you have a DIY roof job, they may deny reimbursement, or worse, cancel the policy due to what they would deem as unqualified roofing work.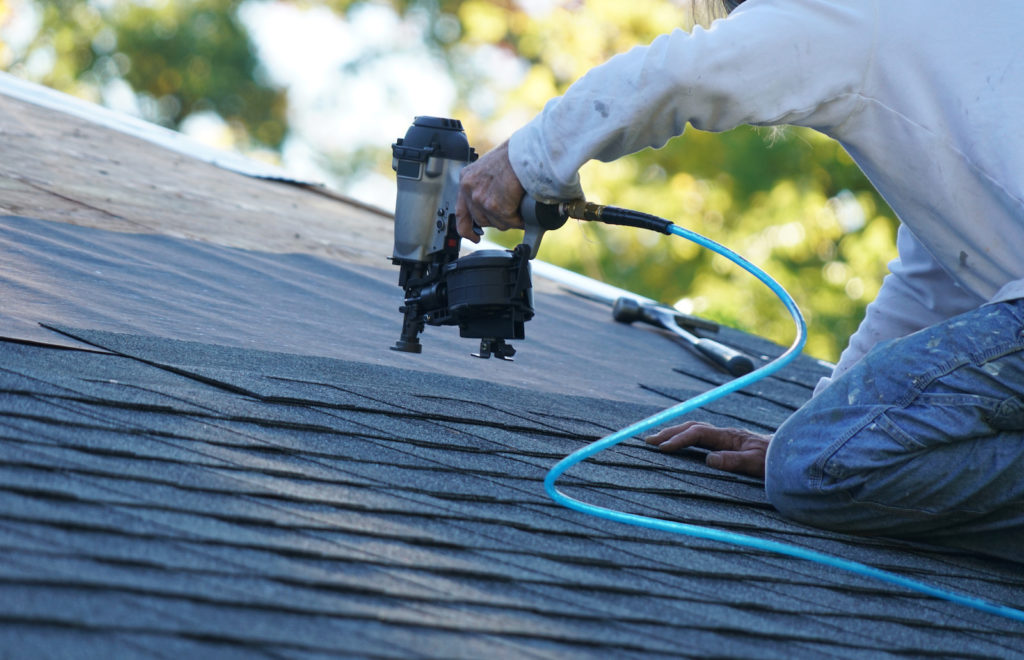 You May Not Get It All Just Right
Roofing is incredibly complicated and replacing an entire roof is more complicated than simply reshingling or even building a new roof. There are a lot of things to be taken into account and a lot of things to remember to do when installing a new roof, and forgetting any one of them or not doing them exactly right could lead to disaster.
Repairs need to be completed following standards and regulatory agencies, such as being in line with building codes, electrical codes, storm ratings, and more. Completing a repair with an unlicensed or DIY roofing solution could mean a problem appearing or reappearing in the future. Even a small problem or failure that goes unnoticed for long enough can cause tens of thousands in damage, even making the home uninhabitable in some cases.
Getting It Done
Let's face it, many of us would find getting a new roof installed in a reasonable time, ourselves, to be a relatively significant project. While you might be able to put off finishing the gutter on the garage or postpone fixing that railing for another few days, you can't just start your roof and then have to stop and deal with the workweek. Even with all those materials you got at a great price just sitting right there, there are only so many hours in the day.
Having a professional handle the job means not only do you not have to worry about learning how to build a roof, buy the materials and tools, and dedicate untold amounts of time to the job. You work out the project basics with them, and then they handle all of the rest safely and on time.
Ease Your Worry About a New Roof Cost By Finding The Right Roofer To Do The Job: What To Look For When Hiring Out Your Roofing Project
There are a lot of roofing companies out there, and just like with anything else, they will be on a spectrum of good, better, and best options. With so many companies out there it may seem a bit daunting to try to pick one out of the masses. Here are some tips for starting your search for the right roofer for your roofing project.
Good References
This is one of the most important things to do, is ask anyone else in your area about their experience with using local roofers. Personal recommendations are one of the most powerful advocates for good service and customer satisfaction. Friends and family are great resources for recommendations, as are co-workers or other acquaintances whose opinion you would place value in.
Respectable Online Presence
The internet never forgets, so make sure that you check the online reputation of any company that you may be considering. Be sure you use an impartial source like Google or another platform where the business owner cannot have unfavorable reviews or feedback removed.
Just as you look for potential bad information, be open to good information as well. Be sure you read the various reviews and testimonials that they list on their company website. You know that they will curate the best of the best there, so keep that in mind, but you should take the bad with the good.
Licensed & Insured
This seems obvious, but you would be surprised at the scams and fake businesses that continue to operate and swindle people. Be sure the business has a current and valid business license, and ask them for proof of business and liability insurance as well. This protects you and your home not only from poor work but also from potential liability suits if one of the workers is injured.
This is a great time to ask the roofer how they handle permits if needed by the local municipality or jurisdiction. In most cases, the contractor will arrange for and include permits in their estimates and costs, but in some situations, they may require you to do that. If you have someone working on your home, doing what could be considered renovation or construction in an area that requires a permit, and you don't have one, you can face significant fines.
Willing To Offer A Free Inspection
Any quality roofing contractor will offer a free roofing inspection before discussing any sort of potential roofing project. They will help you schedule the inspection appointment at your convenience, and will not hold you to any obligation, post-inspection.
The roofer should discuss with you what they find during their inspection. They should go over what they feel is high-priority, as well as things that may need to be addressed in the future. In many cases, they will offer a variety of estimates based on the work they feel needs to be done.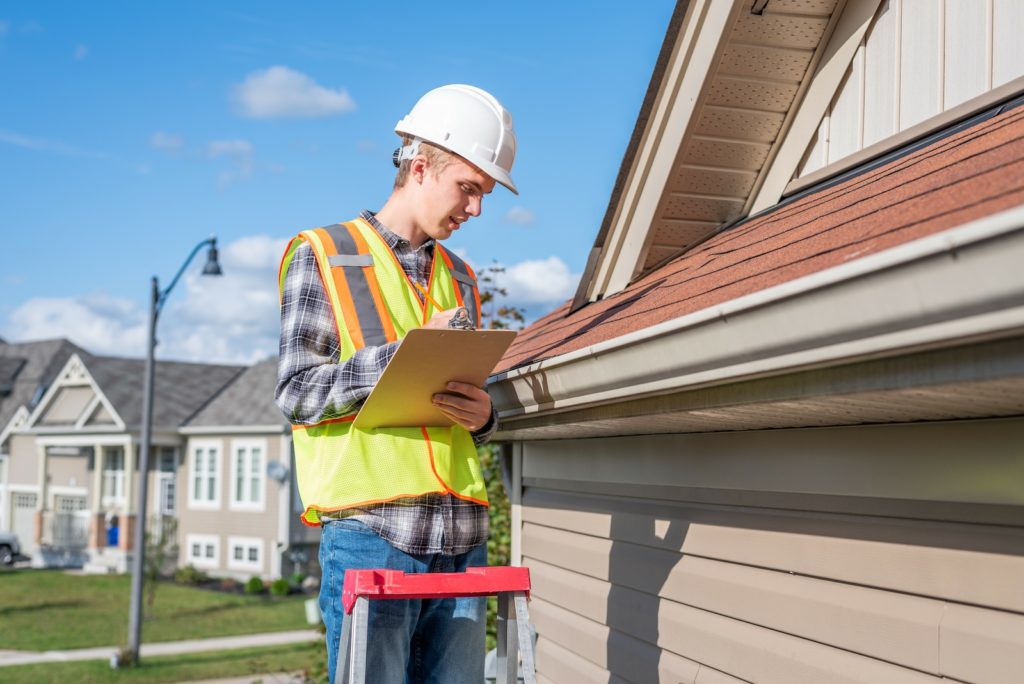 Worried About How Much a New Roof Might Cost?: Talk To An Expert
If you or someone you know thinks that a new roof may be needed, contact local roofing professionals who will take the time to professionally inspect your roof and give you an honest estimate with no obligation.
They will help you understand the condition of your roof and explain any repairs that they feel may be needed, as well as go over the urgency of any problems they find. You can schedule your free inspection for any time that is convenient for you, and get answers to all of your questions.