Have Wind Damage on Your Roof?
Being in a location or region that receives inclement weather can be intimidating and in some cases, nerve-wracking. The wind is well-known for being one of the biggest enemies to roofing, and extremely strong wind can not only stress your roof materials, but it can even cause significant damage. Sometimes this wind will come with tornadoes or hurricanes, but in many situations, it comes with relatively routine severe thunderstorms.
Wind can cause a variety of different types of damage to your roof, from water infiltration to shingle damage, and even structural damage to the roof decking or supports. This can be the first step to not only further roofing damage, but it can lead to incredibly serious consequences for the inside of your home as well. If you have had bad storms recently, or if you think you may be at risk for roof damage from wind, you should know how to check for wind damage quickly, and understand what can happen if you delay repairs for too long.
Read More: Signs Your Roof Needs a Repair
---
8 Signs of Wind Damage: What to Look For
Damage to roofing can happen whenever winds hit 45-50mph or more, and the damage can become more severe as the wind speed increases. Not only can damage happen from the raw power of the wind alone, but that wind can also carry debris and other projectiles that can physically damage your roof as well. This can include not only branches but other items from your neighborhood that get caught in the storm.
If you have recently had a storm with strong winds, or if you are in an area where such weather happens occasionally you should know how to recognize the damage that may have occurred to your roofing materials. Below are some things to watch out for during your next visual inspection.
Need an immediate roofing service? Contact us ASAP here.
Request an Appointment!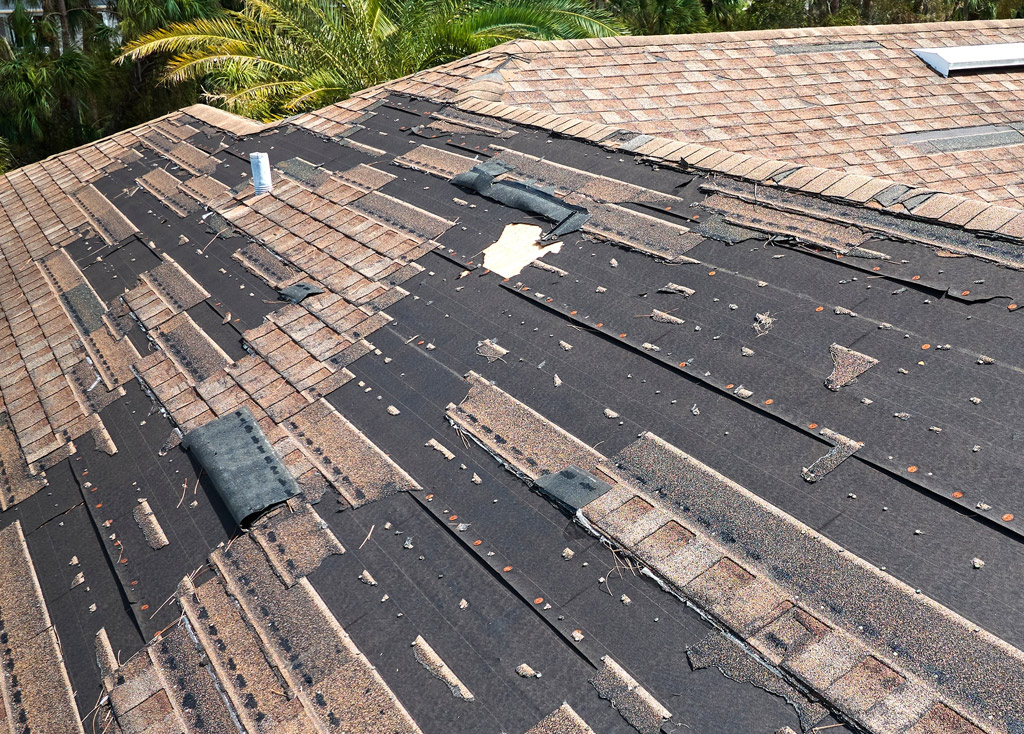 1. Missing Granules
Wind, hail, and impacting debris can cause a loss of the sandy granules that adhere to the shingle surface to protect it and give it wind resistance. An easy way to spot this kind of damage is to simply check the areas where your downspout flows exit and look for an excess of a gritty or sandy material that will be washed off the roof by the rain. More information here about the different types of shingles and how to choose the best shingles for your home.
2. Peeling Or Curling Shingles
One of the most common ways for water to begin intrusion is being blown under shingles that are peeled up or curled from damaging winds. Shingles extend out over edges and flashing, so when they are peeled or curled up, they allow water to enter into sensitive areas. This can also happen when the winds cause the nails to loosen or back out a little, which can make multiple shingles loose or damaged.
3. Missing Shingles
Missing shingles are one of the easiest items on a roof damage checklist for homeowners to find. They are usually simple to spot since they expose the materials under the shingles and can be seen, in most cases, by a simple post-storm walkaround of the home. Missing shingles are common after high winds, and can be one of the simpler and more affordable repairs. Here are some of the best shingles for your roof.
4. Damaged Flashing
Roof flashing is a material that is used to prevent leaks anywhere a roof slope meets a vertical surface. Common locations for flashing are around chimneys and dormers, and it allows the roof to help route water from the vertical surface down the roof and to the gutters and downspouts. If you see damaged flashing, either with holes, cracks, or peeling away from a surface, that is roof damage that will need immediate attention.
5. Damaged Soffit & Fascia
Soffit and fascia help keep water away from the roof and the wall underneath it, and if the wind or storm debris damages it, water can begin to infiltrate as well as small animals or vermin. This is one of the leading causes of moisture getting into interior walls and causing visible damage.
6. Damage To Gutters
Gutters are arguably just as important as your roof because while your roof keeps water from damaging your home from the top down, gutters help route the water away, so it doesn't begin damaging your home from the ground up. If storms have damaged your gutters, it can lead to water accumulation around your foundation, which can lead to serious foundation damage.
7. Cracks, Tears, & Ponding On Flat Roofs
Flat roofs can be unique in their damage checks. You will need to get onto the roof and look for tears or cracks in the roof coating that has been applied. Another sign will be ponding, which occurs when there is a slight depression in the flat roof that allows a small amount of water to pool and eventually soak in, where it causes damage.
8. Indoor Leaks & Water Damage
One of the ways that you will find out that you have roof damage is by having the results of long-term water intrusion start showing up. This can be water-damaged drywall or plaster that sags and eventually falls, weak ceilings or floors, or it can be the development of mold spots.
Read More: 10 Tips for Choosing a Roofing Company
---
Downfalls of Waiting to Repair Your Roof
It goes without saying that once your roof has been damaged by the wind, it needs to be fixed as soon as possible. But we all know that an expense like that might not be something that can be immediately incurred, and it might have to wait a pay cycle or two. However, waiting too long can have extensive, and expensive effects on the health of your roof.
It Will Only Get Worse
The majority of roofing problems don't start as major issues. They can often start with relatively minor damage like a missing shingle or two, or some loose flashing that causes a small but persistent leak. While it may take a significant amount of time for the results of this to become apparent in the home, by the time you see those effects, the damage to the roof can sometimes be catastrophic.
The Repairs Will Become More Expensive
Once the water has begun to infiltrate the roof it immediately starts the clock for much more costly and extensive repairs. In the right (or perhaps wrong) conditions, a leak can travel up to ten feet from the source.
If leaks go on undetected or ignored for too long, not only can it begin to affect the health of the remaining roofing materials, it can lead to structural damage like rotted decking, or joists that have softened and begin to sag. This can also result in costly interior repairs like stud and drywall replacement. More information about repair or replacing your roof here.
Leaks Can Lead To Mold
Mold needs a warm, moist environment to grow, along with just enough warmth. A well-sealed roof prevents water intrusion, but when that roof isn't functioning properly that water can find itself between walls, and in ceilings and floors. These create the perfect conditions for mold to grow.
If certain dangerous molds take hold in your home, not only can they be very expensive to remediate, but in some conditions that mold may also be toxic enough to cause health problems. In extreme cases, the home may even be declared uninhabitable until the problem is resolved.
Delays Can Lead To The Need To Replace The Entire Roof
If a roof is damaged enough, and the problem goes unaddressed long enough, it can require the entire roof to be replaced. This is generally seen to happen where a damaged roof is ignored or otherwise neglected long enough that the roofing materials, the roof decking, and the underlying structural components are damaged too extensively to be effectively repaired.
It Can Tank Your Home's Value
A roof leak that is either unknown or purposely delayed can result in a drastic reduction in a home's appraised value. This will often come out during the inspection stage, and it will generally give the buyer significant leverage to lower their offer by the estimated amount of the roof replacement. If the seller will not accept a reduced price they may find it nearly impossible to sell their home.
It's not hard for a storm to reach wind speeds of 45mph or more, no matter where you live, so making sure your roof is ready to stand against those winds is crucial. One of the most important things you can do to prevent the majority of roof damage from wind is to ensure that a qualified professional repairs or installs your roofing.
---
Why Choose LOA for Wind Damage Repair?
Is your roof leaking by a vent pipe? Do you need a brand new installation, maintenance, or an extensive repair? If you have had some storm damage recently, or if you simply want to get a no-obligation quote from experienced professional roofers, reach out to the trusted local roofing experts at LOA Construction to schedule an inspection.
No matter what your needs are regarding roof damage from wind or any other cause, they can do a full inspection, discuss your options, and provide a roof estimate of how much it will cost. They can make the entire process of recovering from roof damage much less stressful. Our team can also assist you with choosing a roof with a long lifespan that will last a lifetime!
Our Services:
Our professionals can help you with installing your asphalt, metal, slate, clay, tile, TPO, and other roofing types. Besides roofing installations, replacements, and repairs, we also provide our clients with roof coating services, maintenance, hail damage repair, storm restoration, patios, siding, windows, and more. We serve both residential and commercial clients. Need an emergency roof repair service? Contact LOA Construction today!
Our roofing company serves the areas of Austin, Houston, San Antonio, and the Belton, Temple, and Killeen, TX.
---
Further Reading: