Roofing repairs for those with metal roofing can be relatively intimidating with all of the various options available. It can get even more stressful when you need new roofing installed, but you aren't sure about the pros, cons, and cost of the many different types of metal roofing that are available.
There are several different types of metal roofing, from regular steel and tin to options like zinc, aluminum, and even copper. These will each have their own benefits and drawbacks, and some will have drastically different pricing as well. While this might sound like a lot to take in, we're going to make it straightforward to determine what type of metal roofing is going to be the ideal choice for your roofing job.
What Are The Different Types of Metal Roofing
When talking about metal roofing, the playing field is incredibly broad and has a very large range of cost per square foot. Not only does the type of metal roofing change considerably with the material, but installation can also add a significant cost for labor and other costs.
There are several common types of metal roofing, each listed below with its average materials-only cost per roofing square (100 sq.ft.):
Aluminum Roofing: $300-600Copper Roofing: $1,000-$2,000Corrugated Metal Roofing: $150-$250Standing Seam Roofing: $40-$140Steel Roofing: $300-$500Tin Roofing: $300-$1500Zinc Roofing: $600-$1200
It is crucial to understand that not only will the cost of the materials be a focal point for your consideration of which roofing materials may be ideal for your application, but also the additional average installation costs that can result from changing your roofing material entirely or needing to replace a full roof.
In some cases, such as with zinc shingles, the installation costs may be as low as around $5,000 but can go as high as $15,000 depending on the situation and roof specifics. More expensive materials, on the other hand, can start at more than $20,000 and can stretch upward to nearly $50,000 for complex or extensive installations. Most of the other types of metal roofing will average from $10,000 to $20,000 in installation costs.
The Pros and Cons of Installing Each Type of Metal Roofing
Understanding the difference in benefits, drawbacks, and abilities of your potential roofing materials is vital to making an effective choice for your roof. If you are considering new metal roofing, be sure you are aware of what each type can do for your home, and where they may fall short.
Aluminum Roofing
One of the longest-lasting and most corrosion-resistant materials for roofing is aluminum. This material is light, only slightly more expensive on average than corrugated metal, and can last a minimum of 40 years once it's been properly installed.
In most cases, the aluminum shingles come ready to install with a reflective coating that reduces solar gain and radiant heat transmission. This means aluminum roofing can help your home stay cooler during periods of heavy sun exposure or high heat, which can translate to reduced utility bills. Not only are aluminum shingles much more fire-resistant than other types of shingles, but they are very highly wind resistant.
Pros:LightweightAffordableHighly leak-resistantHighly wind & harsh climate resistant40+ year lifespanHelp reduce home cooling power & energy costsCons:Aluminum is softer than other metals, so hail or storm debris can affect the appearanceMaterials are more expensive than some othersInstallation costs can run slightly higher than averageLimited color options
Cooper Roofing
Many people find copper roofing to be one of the most visually attractive roofing materials that you can get. Not only does it have a beautiful color and finish, but it is available in several different tile or shingle shapes, so you can get the look you want. It is also one of the most expensive, so you will certainly pay for the increased beauty and durability.
Copper roofing can last a minimum of 60 years and has superior fire resistance. This makes them ideal for warm climates, or roofing applications that see a lot of lightning strikes. They can drastically reduce the potential for fire from lightning. While the material will last for at least 50-60 years, it will need periodic refreshing of a clear protective coat to prevent oxidation.
Pros:Beautiful copper color & finishRoofing can last 60+ yearsFire-resistantMinimizes effects of lightning strikesCons:One of, if not the most expensive roofing material availableIncredibly high installation costsCopper will eventually oxidize and become greenAvoiding oxidation will require constantly refreshing the protective clear coat
Corrugated Metal Roofing
Most people have seen corrugated metal roofing at some point in their lives, as it tends to be popular on many rural homes and outbuilding roofs. Corrugated metal roofing is composed of metal sheets that have an undulating or wavy shape to them. They are stronger and have better longevity than plain metal roofing or metal shingles, which makes them ideal for areas with harsh or unpredictable weather.
Corrugated metal roofing is one of the cheapest types of metal roofing, and can cost as little as a dollar or two per square foot, which can be easily compared to the price of traditional asphalt shingle roofing. Even the installation costs are amicable, often costing no more than $20,000 to install.
Pros:Panels are incredibly thin and light, making them easy to install over other materialsCheap material costManageable installation costsAvailable in a variety of materials, such as aluminum, steel, and even copperReasonable energy efficiencyCons:Thin metal sheets will often leak if not installed perfectly, or subjected to damaging conditionsPanels are often susceptible to rust after only a few years into their average lifespan, meaning you could be stuck with a rusty roof shortly after installation
Standing Seam Roofing
These attractive and unique roofing materials have a robust lifespan that can match that of copper roofs, and they can last several times longer than other types of metal roofs. They are also one of the most common styles of metal roofs since the materials are widely available across the country.
They are available in a wide range of metals, colors, and finishes to match your application perfectly. The panels run vertically and have notable standing seams that run the length of each panel and provide interlocking and sealing abilities.
Pros:Reasonable material costAvailable in zinc, copper, aluminum, and even galvanized steelEnergy efficiency on par with other metal roofsExtremely long lifespanGreat for harsh climatesCons:Relatively high installation cost compared to the material cost
Steel Roofing
Steel roofing is one of the most durable and efficient roofing materials available. They are highly energy-efficient, and since they are recyclable as well they are incredibly eco-friendly.
Pros:More resistant to thermal changes and damage than other types of metal roofsDurability will often qualify for homeowners' insurance discountsCons:The expected lifespan is only 15-30 yearsRelatively high price per square foot for material with half the lifespan of other metal roofs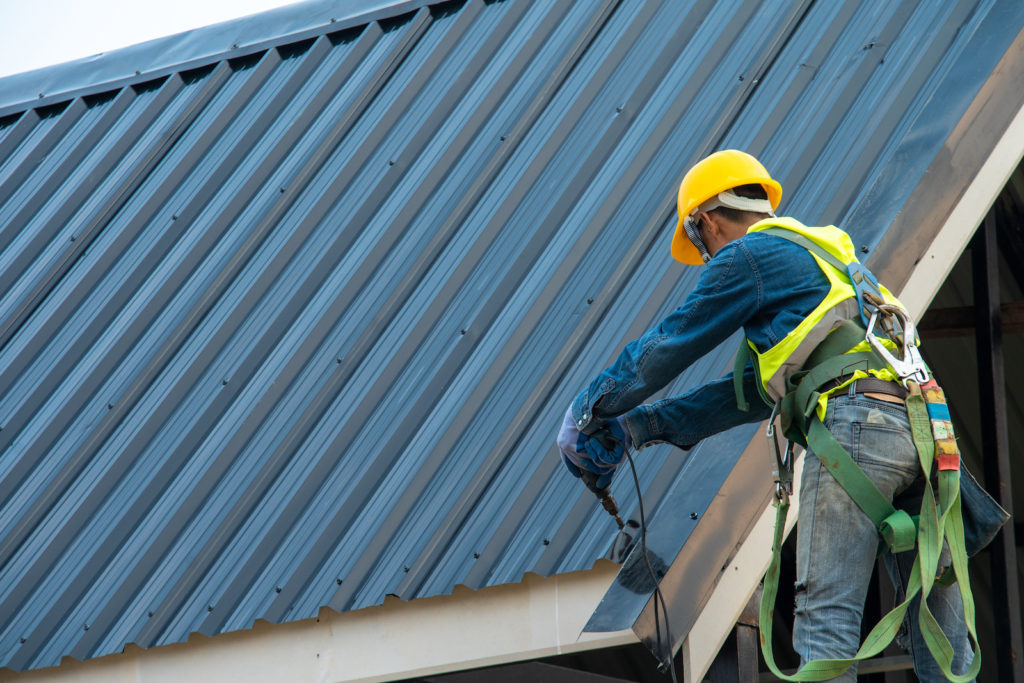 Tin Roofing
While these are technically steel roofs with tin plating, they are treated with an incredibly strong chemical bonding process that makes the roof resistant to cracking. Tin roof costs cover a range of relatively affordable to quite expensive, and they can also have installation costs that vary wildly depending on the situation.
Pros:Made from a large percentage of recycled materialsLifespan of up to 40 yearsCons:Installation can run from less than $10,000 to nearly $50,000
Zinc Roofing
For roofs with unique shapes or angles, zinc roofing can be folded and molded to fit odd profiles. It has been a reliable metal roofing material for more than 150 years and is known for being a very strong material. It resists erosion well, making it great for locations where that is an issue.
Pros:Strong, flexible metalMid-range pricing keeps it accessible to many peopleVery eco-friendly and recyclableCan last up to 100 yearsCons:Low melting point makes it undesirable for areas with high fire riskHow To Choose The Best Type of Metal Roofing For Your Roof & How To Find An Expert To Do It For You
When it comes down to which type of metal roofing is going to be right for your roof, you will need to consider a few things before you jump in. You should consider not only the energy efficiency level that you need, but you should also take into account how often the roof may see severe weather, and whether or not lighting strikes are a significant concern. Finally, after you've considered your needs, look at the pricing and which options you can afford that will give you the performance you need.
Once you have decided on the type of metal roofing that you want, you should contact a local professional to come out for a roof inspection. They will go over the finer points of installation and any additional costs that may be needed. By using a trusted local authority that offers zero-obligation quotes, you can be sure they are giving you the attention and service you and your roof deserve.